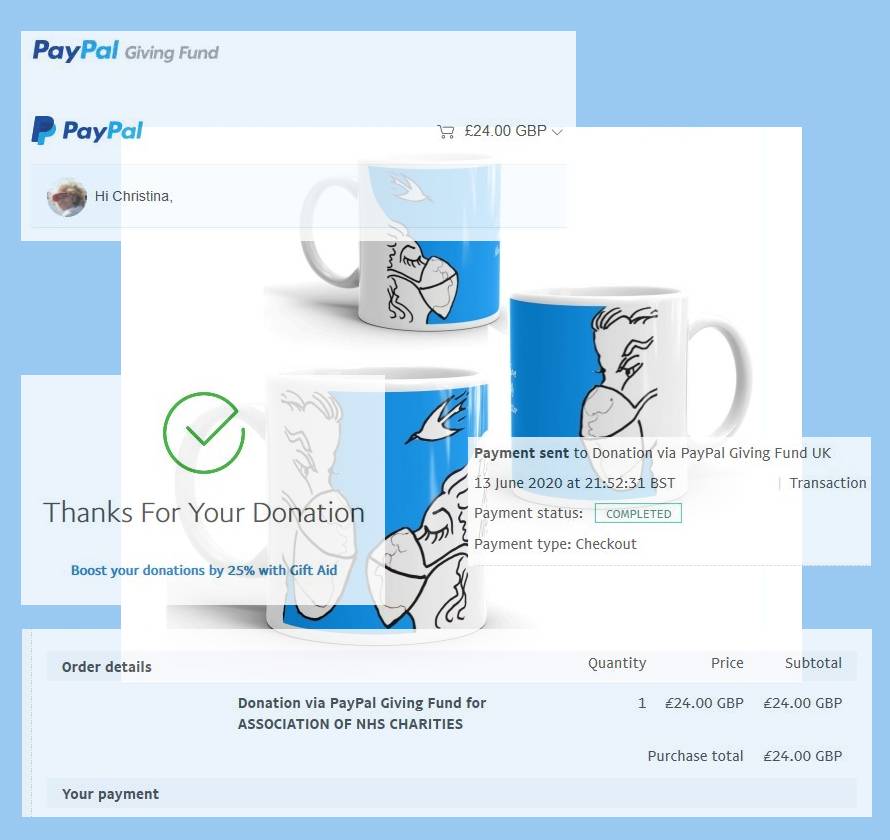 First Payment to NHS Charities Together
So far  a total of 8 (eight) FaceMask Mugs have been bought making a total of £24 raised from the sale of these Mugs.
This £24 was paid by Christina on 13 June 2020 via PayPal
Christina has pledged to pay £3 for every sale of these three mugs with 'Kiss'designs.
Twenty four pounds may not sound a lot but every penny counts and helps and we warmly extend a BIG thanks to those who have bought already – we're very grateful!
Now Let's make this effort FLY and raise more for the NHS Charities!
To buy your Mug – Or mugs – please go to this page and choose your favorite:
Buy for yourself or for a friend – They make great gifts!
Be aware that these mugs are individually made and sent to you from abroad.
There are still difficulties and delays with postage and they could take over a month to arrive.
But they WILL come and we're Sure you be delighted with them.
The image is a Montage of the payment process captured with screenshots, cropped for Privacy with the Facemask Kiss Mugs in the background.
Sharing is caring so the more you share this page and the individual product pages, the more people will know about this and join in, a super-helpful way to help if you don't want to buy one yourself!